Miss Kentucky's Outstanding Teen Princess Program
Thank you for your interest in the MKYOT Princess Program!
All of the information about the program and resources you will need to participate can be found here.
Register to be a Princess
---
About The Program
The Miss Kentucky's Outstanding Teen (MKYOT) Competition's Princess Program is for young ladies age five to ten years old. The MKYOT Princess Program is an extension of Miss Kentucky's Bluegrass Princess Program with a goal of mentoring those young ladies who have an interest in advocating community service and of someday participating in the MKYOT Scholarship Competition and/or the Miss Kentucky Scholarship Competition. MKYOT candidates will mentor the MKYOT Princesses. All MKYOT Princesses will participate in some aspect of the stage production at the MKYOT Competition in Louisville, KY. Princesses will also be recognized in the MKYOT Competition Program Book.
The Princess will have the opportunity as provided by the local Competition director and local titleholder to be a part of the titleholder's year of service. She is encouraged to go shopping with the local titleholder, to accompany the local titleholder on appearances, exercise with her, etc. The local titleholder is encouraged to engage her Princess in any activity that she can to make her feel part of her year of service as she prepares for the MKYOT Competition.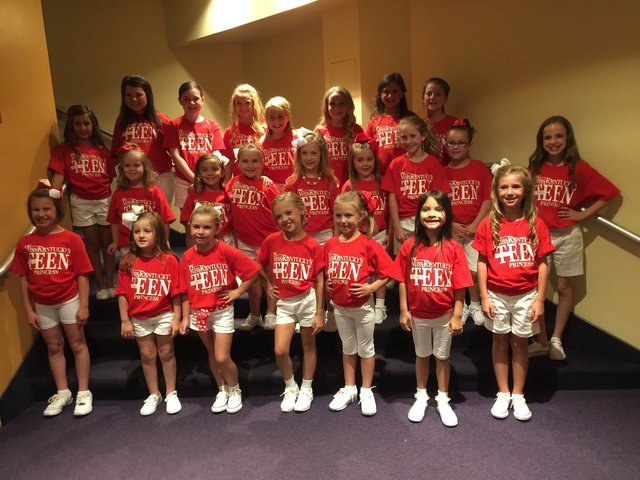 ---
Eligibility
Must be at least 5 years old and no older than 10 years old1
Must have the time and availability to interact with the local title holder throughout the year
1 Birth Certificate may be required as proof
---
Requirements
Each Princess is to provide her own attire for competition week.
Participants are also responsible for housing and meals during the competition week in Louisville.
Each princess must submit a head shot photo by email for the Miss Kentucky's Outstanding Teen Scholarship Competition Program Book.
---
Save the Dates
There are several events that will be mandatory attendance. These dates are essential for the Princesses and their local title holders to go through orientation and spend time together prior to and during the state competition.
Please check and save these dates now to ensure there is no conflict.
Miss Kentucky's Outstanding Teen Competition week (usually the first week in June, check with your titleholder for exact dates)
---
Fees
The Miss Kentucky's Outstanding Teen Bluegrass Princess Program participation fee is $400.
This includes 3 sets of Miss Kentucky tickets (1 set for the princess and 2 sets for the parents).
Application with payment is due at the Miss Kentucky's Outstanding Teen Orientation in March.
---
Need Help?
If you're having trouble or need more information, please contact us and we'll be happy to assist you!