The field is set! The 2020 Line-Up!
Miss Kentucky Outstanding Teen Line-Up!
OAKS GroupCandidates 1 - 8
Tue: AM Interview
Wed: Lifestyle & Wellness
Thu: Talent
Fri: Evening Wear/OSQ
LILY GroupCandidates 9 - 15
Tue: 9-11 AM Interview
12-15 PM Interview
Wed: Talent
Thu: Evening Wear/OSQ
Fri: Lifestyle & Wellness
FILLY GroupCandidates 16 - 22
Tue: PM Interview
Wed: Evening Wear/OSQ
Thu: Lifestyle & Wellness
Fri: Talent
1) GEORGIA BRONSONTri-County OT
9) BROOKLYN ROLLERMonticello OT
16) ELEANOR ICKESCampbellsville OT
2) CHLOE YATESNULU OT
10) BETSY BILLINGSJefferson County OT
17) BAILEE DUFFBowling Green OT
3) BRIA BYRDHardin County OT
11) MAGGIE RICHARDSONRichmond OT
18) EMMA HACKWORTHFleur de Lis OT
4) MADELYN FAUGHNTaylor County OT
12) AUDREY YOUNGBluegrass Area OT
19) MORGAN QUIRECapital City OT
5) ALLYSON WILLISCardinal Country OT
13) JADAN GAMBILLGreen River OT
20) ABIGAIL WILLHOITEThoroughbred Country OT
6) ANNELI WHITEWayne County Area OT
14) GEORGIA TURPINDanville OT
21) SYDNEY SHAFFERCentral Kentucky OT
7) JENNA EVANSTops in Lexington OT
15) JASMINE WEBBGrayson OT
22) TAYAN STANSDFIELDDerby City O
8) MADELYN STEINBERGBelle of Louisville OT
Miss Kentucky Line-Up!
DERBY GroupCandidates 1 - 14
Tues: AM Interview
Wed: On-Stage Interview/SII Pitch
Thur: Talent
Fri: Evening Wear
ROSE GroupCandidates 15 - 28
Tues:15-21 AM Interview, 22-28 PM Interview
Wed: Talent
Thur: Evening Wear
Fri: On-Stage Interview/SII Pitch
JULEP GroupCandidates 29 - 42
Tues: PM Interview
Wed: Evening Wear
Thur: On-Stage Interview/SII Pitch
Fri: Talent
1) HAVEN WOLFEBelle of Louisville
15) HANNAH WILLISDerby City
29) AIMEE TURNERJefferson County
2) DARYN POLZINHorse Capital of the World
16) STEVIE GRIFFINCardinal Country
30) ALYSSA WILLIAMSGrayson
3) EMMA BUCHANANMammoth Cave Area
17) ZAYNAB KHANRichmond
31) HALEY WHEELERBowling Green
4) TAYLOR PARKSCentral Kentucky
18) BROOKLYN POEMagoffin County
32) DEMETRIA SNORTONMidway
5) MORGAN MOSESPride of the Commonwealth
19) KATELYN JOHNSONNIBROC
33) MAKAYELA BANKSWayne County Area
6) ASHLEY SHAE BENTONFalling Springs
20) HANNAH EDELENFleur De Lis
34) MALLORY HUDSONCorvette City
7) HEATHER BEMISVersailles
21) JAZZLIN HAMILTONWestern Kentucky
35) HANNAH GRACE AVERYCampbellsville
8) BRITTANY PATILLOThoroughbred Country
22) EMILY SHARPLexington
36) KENNEDY SABHARWALUniversity of Kentucky
9) MATTI BLAKEMANWoodford County
23) LAURA HANCOCKDanville
37) LAUREN BOHLHeart of Central Kentucky
10) MAKENNA THIBODEAUXUniversity of Louisville
24) SHERAE BRACKENSBlack and Gold MSU
38) SARAH BETH KREIDLERTaylor County
11) KARRINGTON TRUEHeartland
25) CHAPEL TINIUSMonticello
39) HANNAH LYONSBluegrass Area
12) MCKENNA MOOREBath County
26) CALLIE HALSEYGoldenrod
40) ABIGAIL QUAMMENTops in Lexington
13) MOLLY MORGANWildcat Country
27) MEREDITH LONGNorthern Kentucky
41) TURNER REYNOLDSNULU
14) HANNAH ROBBLouisville Metro
28) MOLLY SULLIVANGreen River
42) SYDNEY POORHistoric Daniel Boone
Congratulations to our 2020 Top Ad Saleswomen!
OUTSTANDING TEENMadelyn Steinberg
Georgia Turpin
Jasmine Webb
MISS KENTUCKYHannah Robb
Molly Sullivan
Abigail Quammen
---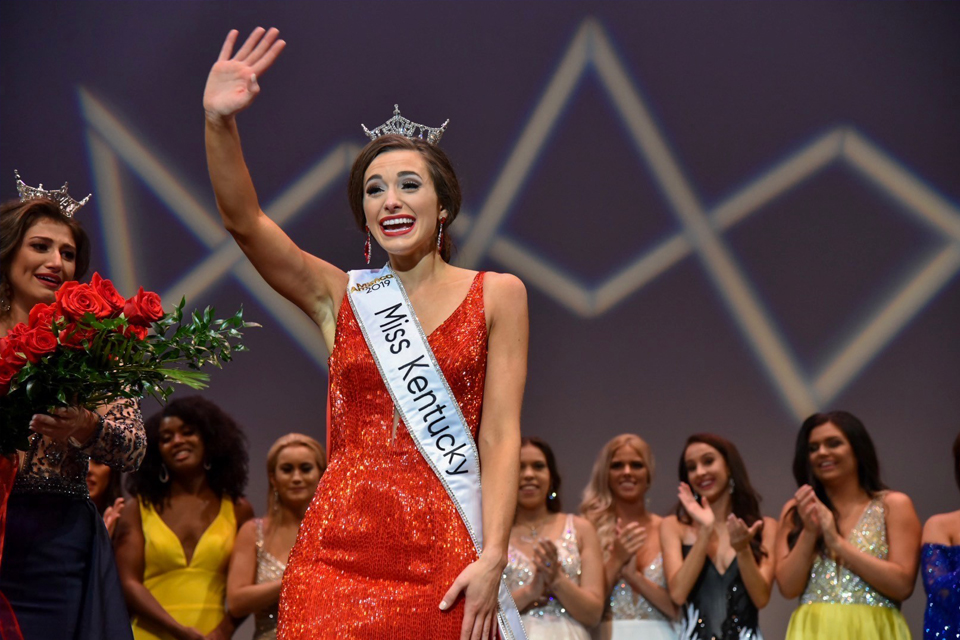 The Miss Kentucky Competition
An Official State Preliminary to the Miss America Competition
The Miss Kentucky Scholarship Organization is a non-profit foundation devoted to empowering the women of Kentucky to achieve their personal and professional goals that will benefit them, the Commonwealth of Kentucky, and our country for the rest of their lives.
Today, those achievements, education advancement and public service continue to be the primary objectives for both The Miss America and Miss Kentucky Organizations. While being one of the nation's leading achievement programs for young women, Miss America is also the largest scholarship organization for women in the world.
In 2016 alone, The Miss America Organization, combined with its state and local organizations, awarded more than $45 Million in cash and in-kind scholarships.
---
---
OUR OFFICIAL PARTNERS & SPONSORS